While exploring around the Internet I stumbled by this interesting gem – the Field of Glory Card Game by Treefrog Games.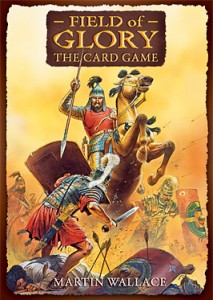 The deck consists of 105 cards, that are split on 48 red army ones, 48 blue army and nine terrain cards. There are five terrain cards and then you use your army deck to try to control at least three of them to win the game.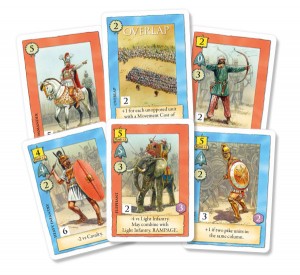 The armies in the game are identical (although it is obviously ripe for expansion) and cover troops from the 2nd Punic War.  The game should play in about 30 minutes and has simplified rules that any Field of Glory player should be familiar with.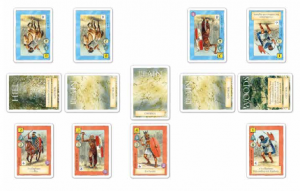 The rules are available for free on Treefrog Games' website.
The mechanics look really interesting and the fact that you can carry the game around in your pocket and play just about anywhere is great. Given the gorgeous artwork too, it could be a great game to bring new players in to the wargaming fold.
I've been looking at card game wargames for a while now, wondering whether or not to take the plunge. I played some in my younger days and enjoyed them. Now I have kids (who also love card games) I am thinking this might be a great way to ease them in to strategic and tactical thinking. At the very least, it will help with their planning and problem solving skills (which currently consist of "Dad! Fix it!!).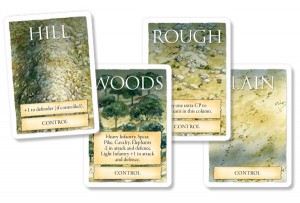 There is more information over on the Treefrog Games website, although UK and European customers should head to their UK site that has much cheaper shipping.
The cost? For me in Europe it's Eur20 for the deck inclusing postage. Not at all bad for a game that would see a lot of play.