Uncategorized
---
Not so long ago, I started using virtual tabletop application more and more for war gaming. Not because I have left my previous figures. More it has been a combination of factors, including I've got semi-bankrupt after rebuilding my new house, and the fact that the area I have set aside for wargaming just won't be ready for another year.
So all my terrain and figures sit in neatly packed boxes down in the garage, while I try and scrape together some funds to renovate that garage and get some working electricity down there, plug the leaks form the well, replace the windows, clear out the nest of scorpions in there, and a variety of other jobs that take both time and money. Mostly money.
As a result, I've turned to my PC to get my one fix. And that is where virtual tabletop software came to light. AHA! I thought to myself. I'll put this stuff through its paces and see if it is any good for gamers. What follows are my findings.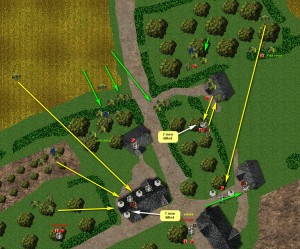 Why Should I Wargame With Virtual Tabletops?
OK, let's start with the reasons why this is a tool that can form part of your wargaming toolbox. These are based on my using virtual tabletop app for almost a year, and in (more…)